Python Course for Beginners & Python Certification training in HSR Layout in Bangalore

We offer Python course for beginner in HSR Layout, Bangalore. Python course for beginner is an all-inclusive program that will introduce you to the Python development language and expose you to the essentials of object-oriented programming, web development etc. This Python Web development course will give you hands-on development experience and prepare you for a career as a professional Python programmer.
This python training will be given in classroom mode. We have weekend classroom batches as well as weekday classroom batches.
Python language course is an object-oriented, high-level language, interpreted, a dynamic and multipurpose programming language which is easy to learn yet powerful and versatile scripting language which makes it attractive for Application Development.
Python is currently the fourth most popular programming language in the world. That is why the demand for skilled Python professionals keeps growing at an incredible rate.
Python is a general-purpose language, which means it can be used to build just about anything, which will be made easy with the right tools/libraries. Python was primarily developed to be a concise, straight-forward and easy understand programming language as compared to C++, Java and Perl.
Few of the best courses to learn python are Python web development course, Python language course, python scripting course and python developer course.
This python certification course by industry expert consultant will help to clear python certification. All tips and tricks will be provided by real-time subject matter expert consultant.
Our Python classes are near to following location: HSR Layout, Bommanahalli , Arekere, Electronic City , BTM layout, Madiwala, koramangala , ITI Layout, Haralur , Kaikondrahalli, Kasavanahalli, halanayakanahalli , Mico Layout, Kudiu , Bengaluru, Bangalore.
Our Python course for beginner will include topics Python Data Types, Control Flow, Functions and Methods, File Handling, Object-Oriented Programming in Python, Introduction to a Flask, a Web framework OR Introduction to Selenium and Python etc.
Complete Customization of Python course for beginner's course content is possible for Individual student and for Corporate. For more information do connect us.
Few of the clients we have served across industries are:
DHL | PWC | ATOS | TCS | KPMG | Momentive | Tech Mahindra | Kellogg's | Bestseller | ESSAR | Ashok Leyland | NTT Data | HP | SABIC | Lamprell | TSPL | Neovia | NISUM and many more.
MaxMunus has successfully conducted 1000+ corporate training in Bangalore / Bengaluru, India, Qatar, Saudi Arabia, Oman, Bangladesh, Bahrain, UAE, Egypt, Jordan, Kuwait, Srilanka, Thailand, HongKong, Germany, France, Australia, Canada, United Kingdom, San Francisco Bay Area, Greater New York City Area and the USA.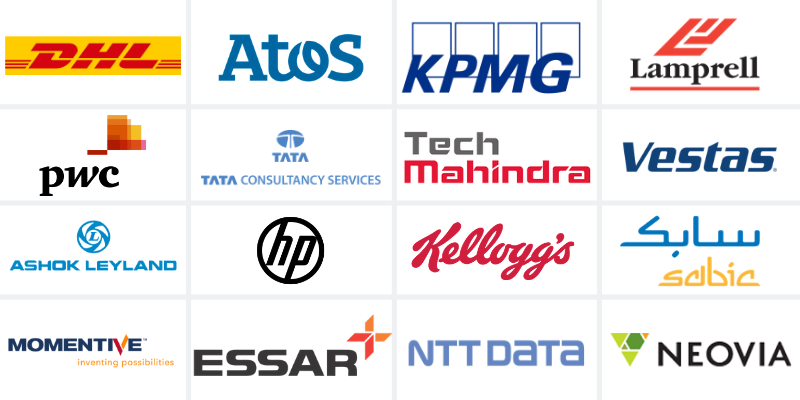 Course Info
Python Course For Beginners Duration: 24 Hours
Python Course For Beginners Timings: Week days 1-2 Hours per day (or) Weekends: 2-3 Hours per day
Python Course For Beginners Method: Instructor Led Online Training/Classroom Training
Python Course For Beginners Study Material: Soft Copy
Course Content
Getting Started with Python Course For Beginners
Python Overview
Compiled and Interpreted Languages
Starting Python
Using the IDLE
Running a Python Program in IDLE/Command Line
Running Python Programs on *IX/Windows
Basic Syntax
some Maths with Python
Python Data Types
Numerical
Int
Float
Sring
Collection Data Type
List
Tuples
Dictionary
Sets
Control Flow
Looping in Python
If/While/For loops
Nested loops
Break
Continue
Pass
Exit
Functions and Methods
Variable
Scope
Functions
Parameters
default
Variable Length Parameter
Command line arguments
Using basic data types to implement queues and stack
File Handling
Read
Write
Append modes
Object Oriented Programming in Python
Class definition
Attributes
Inheritance
Overloading
Overriding
Data Handling
Exceptions and Error Handling
Try---Catch---Except---Finally
Importing Modules, In-built modules
os, sys, math, time, urllib, subprocess, datetime
Introduction to a Flask, a Web framework OR Introduction to Selenium and Python.
Creating a multi page website using Flask and Bootstrap
OR
Doing some basic tasks with Selenium.
Pre-requisite
Pre-requisite
No pre-requisite.
No prior knowledge of programming or python is assumed.
What to Expect:
Understanding of Python basics
Able to read and write python functions and basic classes
File handling and error free programs.
ONLINE JOB SUPPORT
If you are facing any problem in coding in Python then MaxMunus is just a Call/E-mail away to help you. We provide Python Online Job Support for professionals to help them write all the codings in Python in very systematic and efficient way.
The Process we follow for our Online Job Support Service:
We receive your enquiry for Online Job Support.
We will arrange a conference call with our consultant to understand your complete requirement and the tools you are using.
If our consultant is 100% confident in taking up your requirement and when you are also comfortable with our consultant, then only we will agree to provide service and you have to make the payment to get the service from us.
We will fix the timing for the Online Job Support as mutually agreed by you and our consultant.
Request For Demo